Posted by Margi on Aug 31, 2011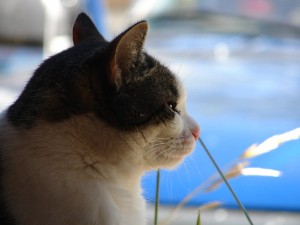 How do we survive these strange, turbulent, unexpected and continuous highs and lows that never seem to end these days? I'll share what I learned today: gratitude. Accepting pain, difficulties and challenges by being grateful brings a different perspective of the situation, experience and process; not to mention shed's a beautiful lightness upon it.
Why fight the inevitable? Why stress and strain, worry and fear not, or fall apart at the seams? It's just not worth it. A lesson I have learned is to get over the pain and suffering and turmoil I create for myself. After all, what we send out is what we get back. And, in a nutshell, that's the law of the universe. I have worked hard to accept this fact because living life is the greatest gift of all. Yet, some of us still wonder if it really is… It is a tremendous help to our perception to remember that no matter what we, or someone we love, might be going through, it is all simply something we have created in one way or another, as that is how the Universe works.
We are co-creators, here to create and attract exactly what we have asked for. It's a game. And until we master it, it might very well seem like a naughty game, as well as one that gets tiresome. Most of us are so over being exhausted from life, and we are begging for answers and help. Personally, I've been learning to take my power back…and then I think, did I ever give it away, and if so, to whom? Or what? And where did it go? The questions, ah the continuous questions… Then I remember the simplicity of trust and being.
Let it be. Allow and simply accept. It's a work in progress…and one I have chosen. Thus resulting in slowly finding more peace and harmony, no matter what. A tough task, you bet…but one that slowly dissolves the more challenging life becomes. Why? It must. That is the process of life: experiencing and allowing. It's all about the present moment, about living life in the here and now. What a ride!
I recently experienced a huge energy block created by my ego, one that I have to accept with love and peace and patience. I believe and trust in my higher self, and that is enough. It's all I need.
I invite you to recognize any pain or heartache, or issue, or tricky situation you might be experiencing with love and kindness. See where it brings you in life? Even I have learned by the powerful force of gratitude. You may find it quite surprising and recognize a part of you that you might have never seen.
What a gift you are to this life!